Selected Issue: 36-5
---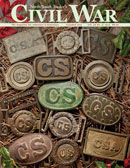 NSTCW Vol. 36 No. 5
Cover

"The Golden Horseshoe Guy," photo by Jack W. Melton, Jr., composition by Steve Sylvia, artifacts courtesy the Joe Haile Collection. Cover story on p. 34.


Contents

Who Fired the Spherical Case?
by Robert H. Gregory
West Woods artifact research


Henry Cole Had Had Enough
by Dr. Carl Golightly
A Wisconsin corporal walks away


Family Lore Confirmed
by Carl Kindervater
Aunt Mildred was right

COVER STORY
The Golden Horseshoe Guy: Interview with Joe Haile
by Stephen W. Sylvia
How does he do it?


A Gallery of Moores
by Doug Eberhart
Small but significant .41 rimfires


On the Path to Corinth
by Ray Treece
Western Theatre expectations exceeded


The Outsiders
by Daniel J. Binder
Makeshift photo studios in the field

Fan of the 44th Massachusetts
by Nancy Dearing Rossbacher
Nellie the Flirt gathers autographs


Lt. Dodd�s Tiffany Sword
by Stanley B. Smullen III
An excellent reason to answer the phone


"Would of Kild Mee"
by staff
A New York soldier writes of a near miss
---